Everything You Need to Know About Stable Doors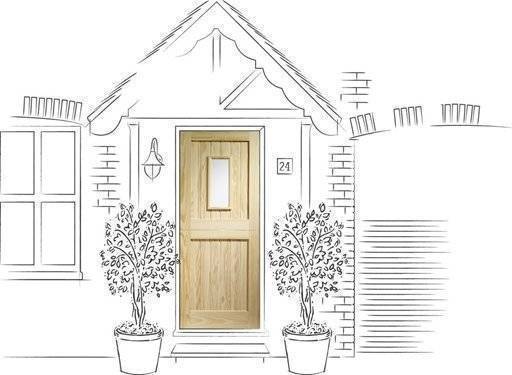 Stable doors are no longer just for the horses! In the past few years we have a seen a huge spike in the popularity of external stable doors and it is easy to see why.
"
Stable doors are no longer just for the horses! In the past few years we have a seen a huge spike in the popularity of external stable doors and it is easy to see why. There are many questions you maybe asking when considering a stable door: Are stable doors secure? How do I fit a stable door? How wide is a stable door? We have thought about all of these and many more, so if you are thinking about buying a stable door for your home, we have you covered.
How Do I Make a Stable Door?
We see this question a lot. Unfortunately if you are not a skilled joiner there isn't much we can advise here, and even if you are, it would most likely be much more cost effective to buy a door that has been manufactured specifically as a stable door.
How Do I Fit a Stable Door?
With the stable door being split into two parts how do I fit one in my home? The honest answer: you shouldn't. We always recommend that you employ a competent trade person to do this for you. Exterior doors that have not been fitted or finished correctly can very quickly start to distort and swell. Not only can this be incredibly costly for you as a homeowner, but it can also be a serious fire hazard if your front door jambs and cannot be opened. Professional joiners will be able to advise on items such as door jambs, weather bars, external ironmongery and all the other essential items that are needed when fitting stable doors.
Are Stable Doors Secure?
This is a very sensible question. We like the thought of strong solid door standing between us and the rest of the world when we go to bed at night, so how secure can a door be when it is cut in half, right? Well, when organising the fitting of your external stable door you can make sure you have a certified multipoint locking system on both the top and the bottom of the door, therefore doubling your security. Opting for a solid door such as oak or pine over uPVC will increase the security of your home as these doors are much stronger. They are also more thermally efficient. Check out the below video on multipoint locks, and why they're so good.
What is The Best type of Stable Door?
There are many types of stable doors available for your home, and in reality the 'best' is entirely dependent on your personal taste and your home's current aesthetic. Are you after a front stable door? Or will the stable door be at the back where there is much more natural light? Does your home have a modern or traditional aesthetic? If you have coloured windows, do you need a door that is suitable for a painted finish?
The most popular style of a stable doors are the ones that are constructed from wood, oak in most cases, with some kind of glazing in the top half of the door. This style is as close to the traditional stable door and is most likely the reason for its popularity. Traditional looking stable doors can really intensify the authenticity of older cottage style homes, without having to compromise on security or heat retention.
However this doesn't mean you should opt for a traditional door, if your home is more contemporary. You can look at adding a statement colour to your door to bring it up to date. How about black with gold ironmongery or grey with a chrome knocker and matching letter plate? You can truly make your door your own.
Stable doors can also come in a variety of configurations, they can come glazed, with clear glass, frosted glass and even stained glass! They can come fully finished ready to fit or they can come ready for you to paint or stain. Whether you choose a beautiful oak glazed stable door or a modern composite with stained glass, make sure the manufacturer's instructions are followed, in terms of fitting and finishing.
What Size is a Stable Door?
Before you start shopping for your stable door you should know the measurement you need, checkout our 'How to measure a door correctly' which will show you exactly how to do this. Like other external doors on the market, there will be many size options out there. Don't worry if there is no exact measurement to match your aperture, almost every door will need to be trimmed before fitting. Our stable doors are available in a range of different sizes, speak to one of our trusted stockists who can talk you through this and any other questions you might have.
What Kind of Maintenance Does a Stable Door Need?
There isn't an external door out there that will not require some form of aftercare after fitting. And to keep your door in good condition it is important that the aftercare is taken seriously. If treated right, a stable door can be an investment for your property, so it is important that you look after it. As a rule of thumb, we would suggest that you refresh your finish annually or as required. Houses that are located closer to the coast may find that their door finish expires faster than those in the countryside. A finish refresh would include a light sanding of the door and another coat of your chosen finish. It is also incredibly important that the weather bar and door jambs are checked for deterioration and replaced when they start to deteriorate in order to protect your door.
We hope that we have helped in your journey. Our range of Exterior Stable Doors can be found here. If you need any further help please call our technical helpline on 07000 785 571. Or alternatively you can give us a call on 01924 350 500 and we can put you in contact with one of our trusted stockists.
"