How to choose internal doors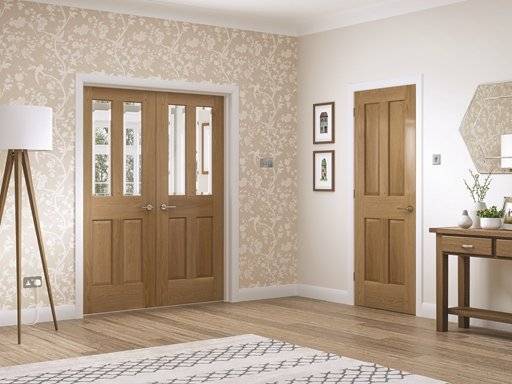 Planning a self-build project is stressful with so much to consider before you even begin. But don't assume that you can leave your choice of internal doors to the last minute.
"
Planning a self-build project is stressful with so much to consider before you even begin. But don't assume that you can leave your choice of interior doors to the last minute. Below, you can read our guide on how to choose your internal doors, allowing you to plan ahead and consider the key elements before you make a decision.
If this is your first time choosing interior doors, you might not be aware of the sheer variety on offer, from style, finish and colour. Considering all elements can make the decision-making process take longer than you might anticipate.
Setting Your Budget
Budgeting is an important aspect to planning your self-build so you will likely already have one in mind when it comes to your doors. But getting good value for money is what matters most to many of us. Be careful not to just go for the cheapest doors available but instead find the best quality available in your budget. Getting doors that stand the test of time for your self-build means you won't have to worry about replacement costs, so investing in better quality usually offers you better value for your money.
Will You be Purchasing Doorsets?
Unless you're purchasing a doorset which comes with everything you need to install your new doors, you'll also have to budget for door hardware like handles, latches and hinges and any other finishing touches. Not everyone realises that doors don't come with these accessories so it's important to factor in the costs before you make any decisions.
Buying doorsets not only covers everything you need but will also save on installation time and labour costs. It will also improve accuracy if your project involves installing several doors.
Buying Pocket Doors
If you're looking for a space-saving option for your self-build project, pocket doors are the ideal solution. A pocket door system fits into the walls rather than opening into the room, so building from scratch gives you the perfect opportunity to fit the door system in with the build. Pocket doors give a stylish look to any home so you might still consider them for your project even if space isn't an issue.
Do you Need Fire Doors?
Self-build projects come with plenty of regulations to follow, and it's important to get right. Most of this will be handled by your architect but to be on the safe side you can find out more about whether you'll need fire doors here.
It's also worth noting that you don't need to compromise on style when you have fire doors fitted. Most fire doors will be available in the design you want to match the rest of the build.
Do you Need More Light in Your Room?
Getting your room layout right also means making sure you have enough light getting into your rooms and that they flow together as you would like. Your choice of internal doors can help you out here too if you opt for glazed doors to let the light flow through your home or to make the space feel more open plan.
Choosing Bespoke Doors
Maybe standard door openings don't fit into your self-build, or maybe the door design you want doesn't come in your preferred finish. Bespoke doors are the ideal solution for this scenario and are another reason why you shouldn't leave your doors until the last minute as you need to ensure you have enough time for the manufacturing of your bespoke internal doors.
XL Joinery is a market-leading supplier of wooden doors and associated products. With over 25 years of experience, we have been helping homeowners transform the spaces they love with our range of innovative and constantly evolving products.
Click here to find your nearest XL doors retailer.
"