Guide to Bespoke Doors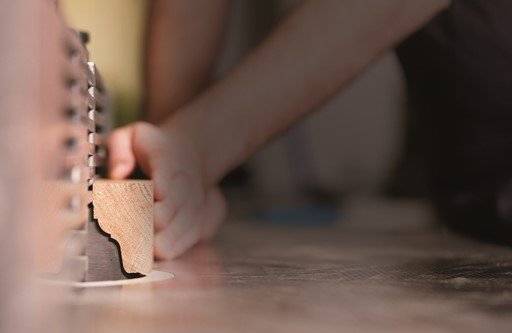 Bespoke doors or made to measure doors are not uncommon, but you might be confused about your options or not sure where to look for custom made doors. Our guide to bespoke doors will help you with your choice.
"
A bespoke door is a door which is a different size to the standard UK door sizes. This can also be referred to as a 'made to measure' door. Any door that is smaller, larger, wider or narrower than standard is a bespoke door. This means that the door you buy must be made specifically for your door opening, otherwise it won't fit. Take a look at the standard UK sizes here.
When renovating a property or working on a self-build project, it's not uncommon to need a bespoke door. Many homeowners, interior designers and property developers have come across non-standard sized doors, but it can seem difficult at first.
You might be confused about your options, worried about cost or even unsure where to look for custom made doors. Don't worry, as we have thrown together a quick guide on what to consider when looking at bespoke options.
1. Remember to get your sizes right
The whole point of a made to measure door is that it is manufactured to your exact specification because a standard door size will not fit your door openings. Made to measure internal doors can either be one piece, or a large quantity of the same door. The point sounds very simple but it is important to get the sizes of the door correct because once they have been manufactured, in most cases, you will not be able to exchange or return the door for another because they have been produced to suit your requirements.
All of our made to measure doors do however have the same trimming allowance as their standard door counterparts. So if the door needs to fit an awkward space, in an old house for example, where the space may not be exactly parallel, the door can still be trimmed so it fits perfectly.
Hopefully this is all sounding very easy – It is! The only thing we need from you is your exact measurements. Don't worry, all of our doors come with varying trimming allowances, meaning your joiner will be able to fit your door perfectly even in the oldest of houses with a wonky opening! You will need to ensure the measurements are as close as possible, if the door is made specifically for you, we are unable to accept a return or exchange if the door doesn't fit!
Two of the most common enquiries for custom doors are:
Large doors required as a statement for grand properties
Smaller doors required for those difficult areas, such as under the stairs, to match the rest of the doors in your property.
2. Remember to confirm if you need a fire door, and what your rating should be
Fire doors go through a longer and more rigorous manufacturing process in comparison to standard doors. This is because they are meticulously tested and engineered in order to be certified as a fire door.
Because of this you will also find that they can be more expensive than standard doors, as the price reflects the process, performance and certified safety. You are not able to modify a standard door into a fire door, for example by painting it with fire retardant paint. This is why you need to ensure you outline all of your requirements at the start of the process.
Make sure to check if you need an FD30 or FD60 certification with your buildings inspector! Different inspectors and specific builds may require a door that is certified to withhold flames for 60 minutes. All of our fire doors are 30 minutes as standard but we do have a selection of 60 minute fire doors.
3. Remember that you can get a made to measure internal door to match any of our standard doors
Bespoke doors shouldn't mean you have to compromise on style or quality. We offer our bespoke service on all internal oak doors, internal walnut doors and internal white doors including panelled and glazed doors, fire doors and door pairs.
This means that every single door in your property can look the same, with the same level of quality you would expect from XL Joinery. Need a door for your airing cupboard? No problem. Do you have a grand opening and you are ready to make a statement? We're ready for the challenge. Any door from any of our ranges that you choose, we can match for you, and design to perfectly fit the spaces that you love.
4. Remember that made to measure doors take longer than standard doors
Due to the specification process, and the extra care needed to manufacture your bespoke door there is a longer lead time. Bespoke doors are meticulously checked by our in house QC team before they are shipped direct to you. We will usually quote a 12 week lead time for bespoke orders.
This is just something to bear in mind when planning your project but anything worth having is worth the wait and bespoke doors are no exception.
5. Remember to ask us for a quote, you might be surprised!
Anything tagged custom made will always come with the price tag to match. You will find our bespoke doors more expensive than our standard doors, however you might be surprised.
Offsetting the uplift in cost against the time it would take a joiner to make you a door, and the 10-25 year manufacturers guarantee that comes from any XL Joinery door, you might find we are a much more cost effective option!
Because you can choose a made to measure door from the oak, walnut and white range you can find something that is within budget for your project!
By choosing a made to measure interior door, you can truly personalise your home. We have a diverse a range of finishes across all of our designs, glazed or unglazed, and have them produced to your exact standards and manufactured with the utmost care and quality! You can rest assured that your doors are covered by the XL joinery guarantee!
All made to measure doors from XL Joinery are sourced sustainably with a full chain of custody and produced in ISO 9001 and ISO 14001 environments.
Specific door design requirements
If you can't see what you're looking for in our current collection, it might be that we can match your specific choice of style and finish to fit your requirements. Find out more about our bespoke service here or give us a call on 01924 350 500 to see how we can help.
"