7 Steps to an organised hallway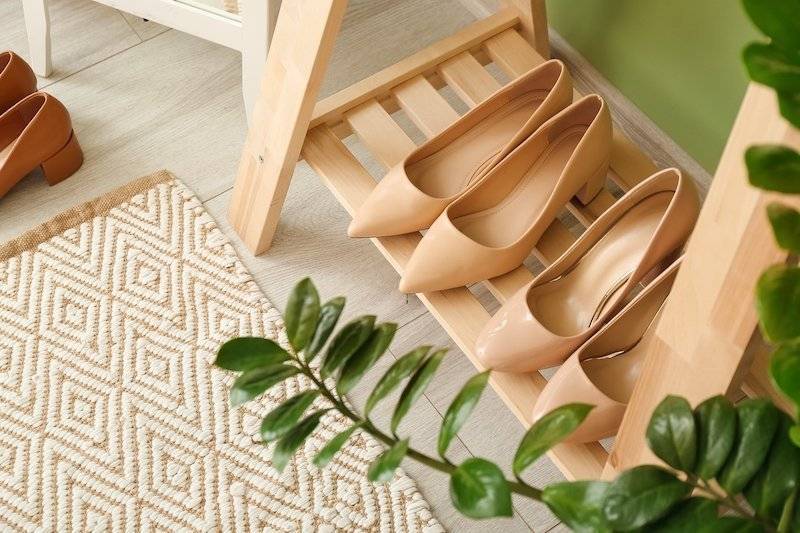 The hallway is the first space you see when you walk through the front door in many homes. Because of this, the room is often used to store those things we need when we leave the house from coats and shoes to bags and umbrellas. For a busy family, your vision of an organised hallway might be far from the reality of trying to get everyone to put their shoes away and rushing around on a rainy morning trying to find the umbrella that's not where it should be. That's why we've put together our seven steps to an organised hallway.
Step One: Store seasonal items
Just like packing away the winter clothes in your wardrobe, there's no point keeping seasonal items cluttering up your hallway. Store winter coats and boots elsewhere in the summer and find a new home for sandals and sun hats in the winter. Doing this will free up space and give you a clearer picture of what you need to store in your hallway.
Step Two: Split the space
Once you've cleared up the space, it's time to think about how you divide it and what storage space you have. Because hallways tend to offer limited space, large cupboards or deep shelves can seem like a good idea to get the most storage possible for your items. But it might be more practical for households to divide storage areas instead to avoid creating a tangled chaos of items. Storage units that offer smaller sections to divide your items into can be used to split items so you can have a place for scarves, a place for hats, a place for shoes etc or you can give each family member their own place to store their hallway stuff.
We're quite fond of this hall stand from Made.
Step Three: Share ownership
For personal items like coats and shoes, it's easy to make a mess if not everyone is tidying up after themselves and no-one is taking ownership for the clutter. It makes sense to store generic items like umbrellas and shopping bags together but one way to combat clutter is to assign everyone their own peg or shelf to store their belongings. That way, you'll be able to tell who isn't keeping things tidy.
Step Four: Allocate space for small items
As soon as you step inside the front door, most people are quick to remove coats and shoes and this can lead to the smaller items getting shoved on cluttered surfaces and forgotten about. From post, keys, takeaway menus, pens and loose change, try to allocate a space for everything to avoid a messy hallway table. Not only will this look neater, it saves time searching for keys as everything will be kept in its place.
Etsy has an entire section dedicated to change bowls, so there must be something out there for you!
Step Five: Realistic shoe storage
Chances are, your household probably owns more pairs of shoes than your hallway currently has room for. When you think about it, you probably own more shoes than you first realise. Multiplied by everyone in the house, a standard two-tier storage rack just isn't going to cut it, resulting in more shoe clutter when you run out of space. You might be able to get clever shoe storage options such as under stair cupboards, but shoe racks are available in all types and sizes so you should be able to find something that fits the length of your hallway.
Step Six: Telephone table
A common hallway feature of the past, telephone tables used to be the place to make and receive calls on your landline. Now this has become obsolete, there's still one good reason to have one in your hallway. The telephone table is an ideal place for storing and charging mobile phones and devices and for keeping chargers all in one place. If your hallway doesn't have room for a separate table, try keeping a drawer or cupboard in your existing storage free for chargers.
Step Seven: Go higher
Hallways are typically long, narrow rooms, so creativity is a must when it comes to finding a suitable storage solution. Giving up your floor space for large cupboards might make the space feel smaller and cluttered, but you can opt for bespoke floor to ceiling cupboards instead. If your budget doesn't allow for this or your existing hallway storage is relatively new, try to use the space on top of cupboards for stacking boxes or creating your own cubby holes for personal items. Of course you don't want your hallway out of sinc with the rest of your house, so why not upgrade those wardrobe doors?
More than just style advisors, XL Joinery are suppliers of some of the finest interior doors available. Have a look around the site for more inspiration, or contact one of our friendly team here!