Create something unique with Door Pair Makers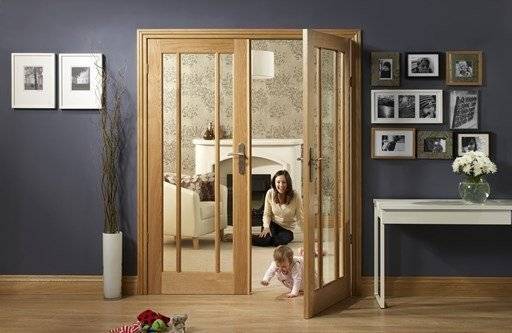 If you have a double door room divider in your home, why not create something really special by combining two very contemporary doors together to reflect your own unique taste.
An internal door pair maker allows you to do just this, by simply attaching the product to one of the internal doors it will act as rebate to the other one (see above).
Our Pair Makers are available in Oak and White Primed and therefore complement our Oak and White Primed doors. As any door style can beused with a pair maker you can ensure a harmonious look throughout your home by ordering other doors from the same range for the rest of the property.
We have put together 5 stunning double door designs from our ever popular Ellipse range. Any of these will give your home the real wow factor that most people strive for.
Treviso
The Treviso comprises of a distinct oval curved design and with the option of panelled or clear glass in the centre. When a pair maker is thrown into the mix it creates an oval effect that becomes a real focal point in either of the joining rooms.
Pesaro
The Ellipse range also includes the Pesaro doors which include a similar design to that of the Treviso, with two overlapping symmetrical curves that is both interesting and eye catching. The Pesaro design has a singular clean cut groove making it more subtle than the Treviso, but manages to lose none of the impact. Use these doors in conjunction with darker timber architraves to build a contemporary look to any room divider.
Verona
With stylish modern arch panels and with the option of clear toughened safety glass, this bold design sits comfortably as a door pair, allowing any natural light to flow into your room. Use a combination of White Primed Verona doors upstairs and Internal Oak downstairs to create a real striking contrast in your home.
Livorno
With a contemporary large oval design, the Oak Livorno range which is available with solid grooves or clear glass is ideal for any modern living space. The clear toughened safety glass provides light to flood through the two rooms whilst making it completely safe for young children. A room divider with clear glass can maximise the space in your home and truly lend itself towards a more open plan feel.
Salerno
The internal Salerno Oak Door looks completely natural when complemented with a door pair maker. The Salerno door range is now also available in a White Primed door version which means it can fit comfortably within a traditional or ultra-modern home setting. We recommend that the hinges be fitted away from the glass, when the glass is offset. Please note that fitting the hinges on the glass side is possible but will affect your manufacturers guarantee.
XL Joinery offer a comprehensive range of timber doors, for more information about our collection please download our 2015 catalogue or visit our website www.xljoinery.co.uk.