Internal Laminate Umber Grey Forli Fire Door
Product code:

LUMBFOR-FD
Ask an Expert
View style in Doorsets
Made to Measure services
Made to Measure services
Request a sample pack
Request a sample pack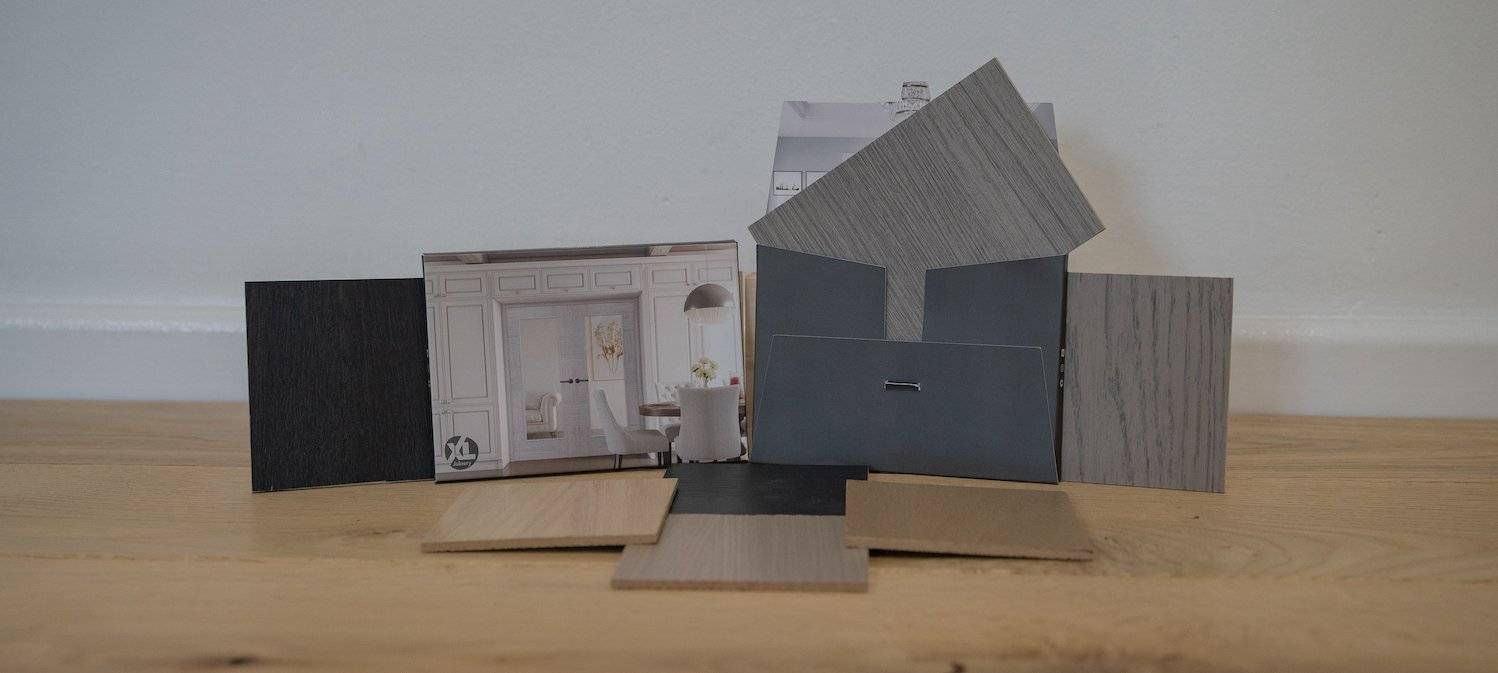 Order free colour samples
If you are looking at a Colours by XL paint or a stain for your door, we advise that you order a colour sample to get a better idea of the final finish of your door.
Select up to 3 different colour finishes that you fancy and we will post them out to you, free of charge, so that you can decide in your own home.
Overview
Feel at home with the Forli, a door that conforms to modern living. With clean vertical lines, effortlessly contrasting the laminate
wood effect grain, this door will run seamlessly throughout any contemporary home. Matching glazed doors and fire doors are
available to ensure a consistent look, regardless of the door application.
Top features
Fully finished and ready to hang (Note: trimmed edges and hardware cut-outs require finishing)
Laminated surfaces with the appearance of real wood with a textured surface
Hard wearing and low maintenance finish
Consistent finish and colour
Contrasting colour of grooves and lipping's
Fire door certificate number: PAR/10899/01 Revision E
Specifications
Forli

Pre-Finished

Laminate

Fire door

Dark grey

Grained

Laminate veneer

Engineered

D3

Reversible

Yes

Lipped on all four sides

Hardwood

18

18

18

4
Product Measurements
1981 x 762 x 44mm (30")

1981

762

44

30

78

Yes

125

125

127

768 x 1987

47

No
1981 x 838 x 44mm (33")

1981

838

44

33

78

Yes

125

125

127

844 x 1987

50

Yes
2040 x 726 x 44mm

2040

726

44

28.6

80.3

Yes

125

125

127

732 x 2046

46

No
1986 x 826 x 44mm

2040

826

44

32.5

80.3

Yes

125

125

127

832 x 2046

49

Yes
Installation
Reversible
Yes
10
10
5
5
5
65mm
Light sanding using 240g sand paper on the edges only
3
4" Butt
Paint matched to RAL 7022 (Edges & V Grooves)
HANDLING AND STORAGE Doors should always be stored flat, ideally in the same room where they are to be installed. Protect the door from damp and dirt by leaving it in its protective packaging until ready for finishing and fitting. Doors should not be fitted where extremes of temperature or humidity may occur, e.g. in a newly plastered room or near a sauna. In new build situations the doors should only be fitted when the property is ready for final decoration. INSTALLATION When trimming a fire door to fit, 5mm can be removed from each edge of the door to a maximum reduction of 10mm in both the height and width. Any reduction must be removed evenly from each edge of the door, e.g. to trim your door by 10mm in width, remove 5mm off each side. For further information and documentation evidence please complete the fire certificate request form from the XL Joinery website. Three hinges should be used to hang all doors, to prevent warping or bowing. All hardware screw holes should be pre-drilled to prevent splitting of the timber. FINISHING All fully finished doors will require any bare timber areas caused by trimming and hardware fitting, to be adequately treated before final fitting. Failure to treat all the timber surfaces may lead to excessive changes in moisture content which will cause the timber to shrink or swell, possibly causing splits and distortion. To treat the Umber Grey door edges after trimming, use RAL 7022 to colour match the decorative grooves. Any unfinished areas will require a light sanding prior to finishing using a fine grade sandpaper (grit number 240 or 320). Please refer to the finish manufacturer's application instructions for further details. DO Use a good quality paint suitable for veneered doors. Apply to all unfinished, trimmed or cut-out areas. Always apply the manufacturer's recommended number of coats equally. DO NOT Use oils, wax, dyes or preservative treatments. Use thinned/mixed paints or stains. Mix incompatible products, e.g. paint on one door face and stain on the opposite face. MAINTENANCE To prolong the natural beauty of your door regularly clean the surface with a damp cloth.
Guarantees & Accreditations
Yes

SA-COC-001476

Yes

30 Minutes

Yes

Limited

10 Years
Documents & Videos
Door samples for all
Get colour or stain samples shipped to your door
Request a sample